Finished the Mechanical Assembly
All,
I have finished the physical assembly of the RBX1. I documented the build here: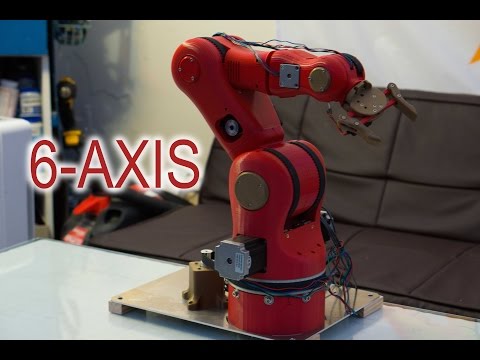 I have a couple of tips:
-Print the wrist at an infill greater than 40%. This piece snapped on me during assembly.
-Use a heat gun to soften the base of the wrist to make it easier to push the bearing on the bottom into place.
-I used a jam nut (
https://www.amazon.com/dp/B00B3RL0BM/ref=cm_sw_r_cp_api_Ryw1ybBCBBFJ4
) instead of the M8 locknut for securing the m8 rod with the end threading into the wrist. I was unable to fit a regular locknut.
- I was not achieving smooth motion from the rigid coupler in the forearm because the dimensions of the part were off. I fixed this by using a smaller coupler (
https://www.amazon.com/dp/B01M8QXY8N/ref=cm_sw_r_cp_api_XFw1ybRGEFBSD
)
-I found the M8 rod with the threaded end that connected the forearm to the wrist was too long. I cut off about 15mm with a hack saw)
- I had to super glue the heads of the nuts into place that hold the base to the steel plate because there was no way to prevent them from spinning with the gear in place.
I'm still trying to determine the optimal way to attach the drive gear of the servo to the gear of the gripper. Let me know if you have any questions.
Thanks,
Dr. D-Flo
Tagged: